Access our library of over 450 precedents & workflows
Connectworks currently comes with a library of over 450 precedents, workflows and clauses included for your use.
You also have the option to save your firm's own precedents in Connectworks for use by all members of your staff only. These can either be ones you have prepared yourself, or you may wish to save a Connectworks precedent and amend it for use by your firm.
Non-professional users of Connectworks (ie. invited clients) cannot access precedents.
For your reference, a list of available precedents can be downloaded here: Download list of Connectworks Precedents & Workflows
How to download precedents
For a Trust: Open the trust workspace and select the documents tab.
Select "I would like to ...", and then Download a precedent.
For a Company: Open the Companies workspace and then navigate to either Directors>Documents or Shareholders> Documents tabs.
Select "I would like to ...", and then Download a precedent.
After selecting Download a precedent a slide-out panel will appear showing a list of all available precedents. You can easily search for the precedent(s), or refine the list by the category of document you require.
Once you have found your document you will have two options to select, template or merge.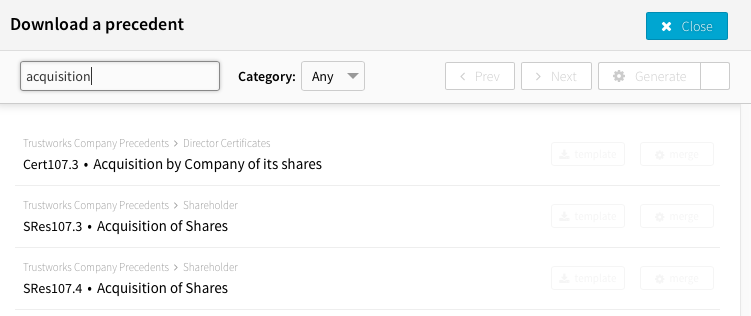 Merge
The merge option will automatically add the relevant client information to the document.

Auto-populating fields can include information such as:
name of the trust

settlement date

settlors, trustees and beneficiaries

name of the company

NZBN

incorporation date

directors, shareholders etc.

the date of the document

client signature fields.
Note: You can also view all available precedents (as well as add your own) from within your firm's Admin>Precedents tab.
Template
The template option will allow you to manually enter the required information.
Tip: You can speed up this process by using the "Find and Replace" option in your word processor.

Clauses
If Connectwork's library of precedents does not meet your requirements, firms can generate customised documents by using clauses instead. This function enables users to select from a variety of preset clauses and further edit the text if required. The resulting document will be formatted and auto-completed with the relevant details about the entity (eg. Company name, number, NZBN, and director's signature fields).
See more on Using Connectworks Clauses (AGM/Minute Generator)
After downloading
By default, any precedents you generate are not saved in entity profiles until you choose to upload them. After you have reviewed the document and made any amendments required, simply upload the document back into the entity's profile. When uploading documents into the entity profile you may simultaneously elect to distribute the document to clients for signing.
See more on signing in the articles below: