Linking your Realme login to your profile
There are a couple of things every staff member is required to set up to enable them to file Annual Returns in Connectworks. If you're experiencing an error warning when attempting to file a return, it's likely due to one of the following steps not being completed.
Linking to the Companies Office via RealMe
To enable filing annual returns from within Connectworks you must first link your Connectworks account to the Companies Office using the RealMe login which has the authority to file on behalf of your clients. Your RealMe connection then remains active for up to 400 days.
If you encounter an error warning during the final stage of filing you will need to connect (or in some cases disconnect, then reconnect) your RealMe login.
For more information on getting set up at the Companies Office and RealMe please see: Companies Office and RealMe
How to connect to RealMe
1. In your personal workspace select the "Manage your profile" dropdown.
2. Select Other systems
If you are already connected but are encountering issues filing, select "Re-authorise".
3. Select Connect to Companies Office - a pop-up window should appear.
If this window does not appear your browser is likely blocking pop-ups. In this event navigate to the web address bar in your browser - to the right of the web address there will be a small red icon - select this, and then choose "Always allow pop-ups and redirects from https://goconnectworks.com". Then refresh your page and reselect the "Connect to the Companies Office" button.

4. When pop-ups are enabled you will be redirected to a Companies Office RealMe login screen. Log in with your RealMe username and password (must be the RealMe account that has the authority to file Annual Returns at your firm).
5. Approve the User Consent request - you are now ready to begin filing Annual Returns from within Connectworks.
Enable a Direct Debit with the Companies Office
When you file a return in Connectworks, the Companies Office will charge you directly for the filing fee (at the discounted Connectworks rate). At present this payment must be made by direct debit, so in order to file you must ensure you have enabled the Direct Debit authority at the Companies Office:
Login to the Companies Office

Click on the Manage and Maintain dropdown on your dashboard and select Account settings

Select Your payment details, fill out the details and click save (takes effect overnight)

Select Manage your user account details (if you are filing on behalf of the firm)

OR

Select Your payment details (if you are linking under your own capacity).
It will say it's confirmed right away but usually takes overnight to process.

4. Select Manage your user account details (if you are filing on behalf of the firm)
OR
Select Your payment details (if you are linking under your own capacity)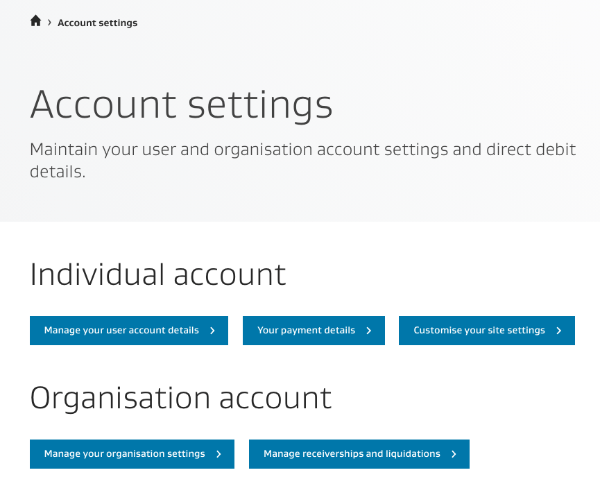 If you are still having issues, please contact us for further assistance, often there are configuration issues at the Companies Office that prevent the filing of Companies through Connectworks.
e.g. The Direct debit is loaded against the Director of the firm, whereas it needs to be loaded against the Organisation (allows the admin staff to file the annual Returns).
Staff member files the Company (Error: no direct debit enabled)
The director files the same Company (Error: no authority)
Resolution: the Direct Debit needs to be loaded against the Organisation at the Companies Office