Step 2 - The annual return workflow
As Connectworks has no means to determine your filing obligations, all imported companies will be marked as "undetermined" until updated by the user. This detail must be updated for all companies in order for the annual return workflow to display accurately.
By default, the Annual Return Workflow only displays companies that have their filing obligation in Connectworks set to "Registered office and filing" or "Office filing only". If companies are missing from your workflow, or you need to do a bulk update of the filing obligations see our article: Setting Annual Return Filing Obligations
Extract the report
1. Navigate to your Firms Work>Annual Returns tab.
2. Apply the following filters to the workflow in the left-hand column:
Filing Obligation, select all options

Filing Month, select the appropriate month

Filing Status, All (No filtering)
3. Select the "I would like to" button and "export list (CSV)"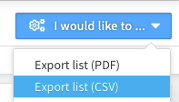 4. After downloading, open the Excel file and check:
All companies due to file this month appear on the list (compare this with the list from the Companies Office).

Companies have the correct filing obligation recorded

An email address is recorded for all companies you have an obligation to file for

If applicable, a client reference is recorded for all companies you have an obligation to file for*
*This is the reference which will appear on your invoice from the Companies Office.
5. If required, update any missing details;
From within the workflow, you can quickly update any company profile and add missing details by hovering over the very right of the company and selecting "edit profile".

Importing / Discarding Companies
Once you have downloaded the Export Report, you might find that some Companies are missing or other Companies need to be removed as they are been struck off.
Before importing companies it is recommended that you search in the Clients gallery in case the Company has already been imported into Connectworks but has the incorrect annual return filter set. See our article: Setting Annual Return Filing Obligations
If the Company does not appear, then you can import the Company from the Companies Office, see Setting up Companies.
Discarding a Client
Before discarding a Client, remove it from any active CDD workflows.
To discard a Client, simply select its tick box in the Clients tab, then click on "..." and select Discard, see Discarding Clients.
Next step: