Accessing documents stored in Connectworks as an end-user
As an end-user of Connectworks, your access to different document storage vaults is determined by the access rights assigned to you by the professional firm responsible for your company or trust subscription/s.
There are two locations you can find documents:
Your personal storage vault - is available to all Connectworks users.

An entity document vault - only available if your professional advisor has invited you to access the workspace of the company or trust you are involved with, on shared access subscription plans. If you find that your ability to view or upload documents within this workspace is restricted contact your professional advisor to request an upgrade of your access rights.
Personal Document Storage
All invited users of Connectworks have a personal document vault, available in the Documents tab of your personal workspace (pictured below). By default, all documents which have been distributed to you for signing via Connectworks will be saved here.
You can upload your own documents and store them here too, just click the "I would like to... upload a document" button highlighted in the screenshot below. You can also bulk upload documents in lots of up to 10 at a time.
All documents are automatically converted to PDF files unless the tick box "store documents in original format and don't convert to PDF" is selected during the upload process.
Your personal document storage area does not have a size limit, but a fair use policy does apply.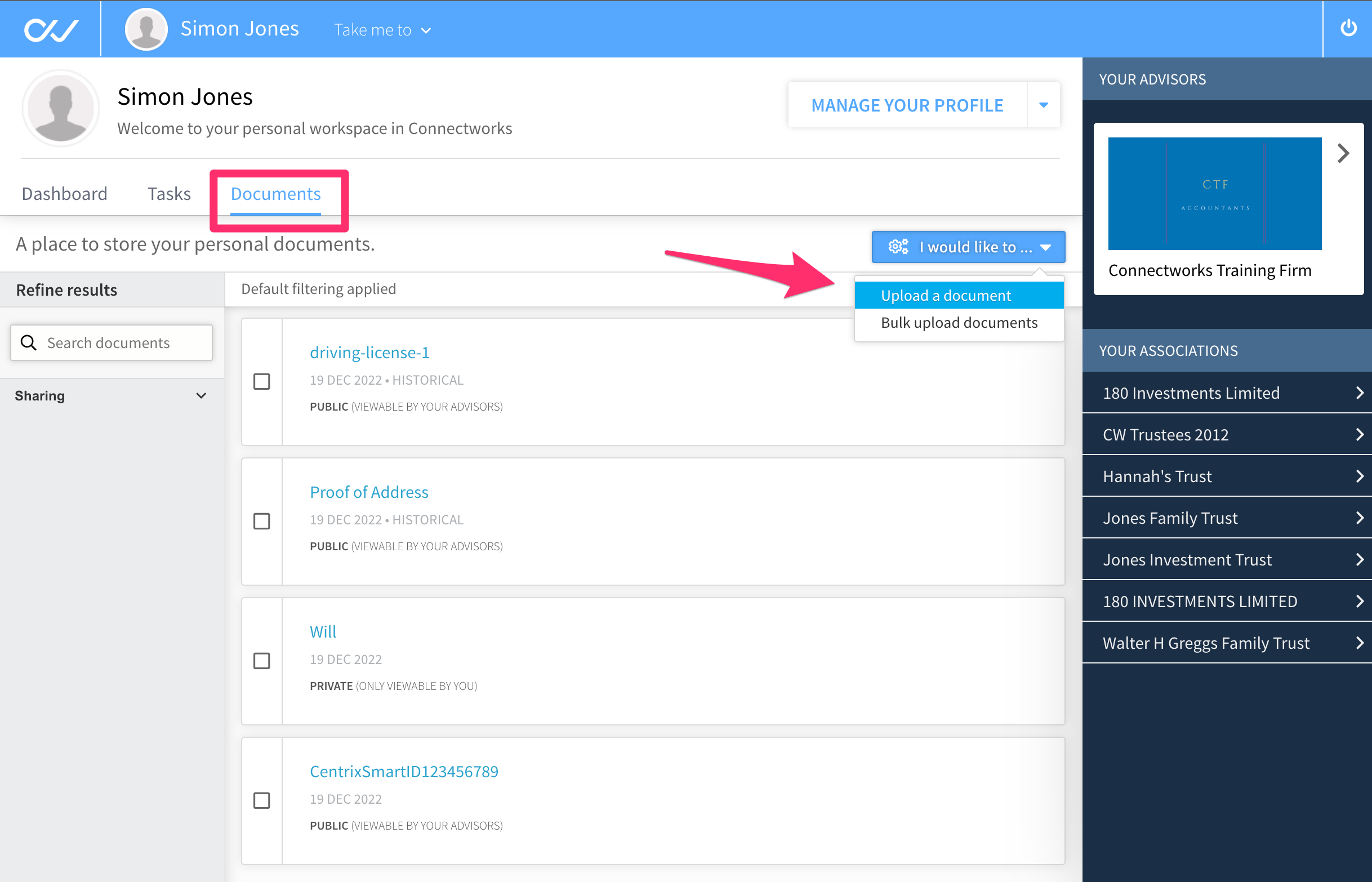 Entity Document Storage
If you have been invited by your professional advisor to access the workspace of an entity you are involved with, you may also have been given the right to view and/or create documents within this entity profile.
If you have been allowed this level of access, first enter the entity workspace by clicking on the desired entity name showing in the Your Associations list on the right-hand side of your personal dashboard.
Within a Company Workspace, there are two repositories for a company's documents:
The Directors documents tab

The Shareholders documents tab
As their locations suggest, you should store documents relating to directors and director decisions in the Directors tab, and documents relating to shares and shareholdings in the Shareholders tab.
In a Trust Workspace, The Documents tab is the repository for all the trust's documents.
Uploading documents
If your access rights have been extended to upload documents for the entity, you can upload documents into the document repository by clicking the "I would like to…" dropdown.
If the document is still in draft or is a new document which needs to be distributed for signing, select the add button and document option.

If the document is already signed or relates to past activity in Publication and signing select 'Historical document'.

You can then search for (or drag and drop) the document into the upload screen, and record the name, type, signing date, apply document category tags and add other details for the document.
Please note: Documents cannot be dragged directly from an email attachment, to successfully upload a document it must first be saved to your computer's hard drive.
Downloading documents
To download a document, simply navigate to the documents list, select the tick box of the document (or documents), click on the Cogs, and click on download.