Where resolutions can be approved in Connectworks
There are two places resolutions can be approved in Connectworks. Most commonly resolutions are approved from your personal dashboard. However, if your entity is subscribed to a higher-level access plan, then you can access the entity workspace and approve it there too. Both methods are outlined below.
Email notification
When a resolution is created in Connectworks which requires your approval as a director of the company, you will receive an email from noreply@connectworksmail.com, similar to the one below:

Approving resolutions from your Personal Dashboard
Once you have logged into Connectworks, you can simply approve the resolution by clicking on it in the Needs signing or approval from your Personal Dashboard.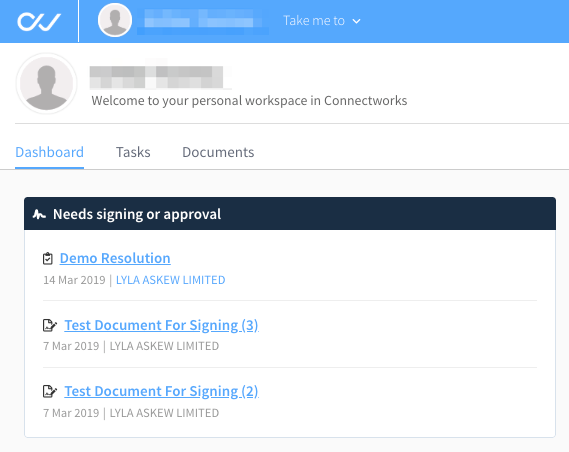 After reviewing the resolution you just need to approve (or reject) it using the buttons in the top right of the document panel.
Approving Resolutions from within an Entity Workspace
If you have been invited to collaborate on a collaborative subscription plan, depending on the access rights assigned to you by your professional advisor, you may be able to approve resolutions from within the entity Workspace itself. You may also be able to generate and distribute resolutions for approval yourself.
To navigate to your entity Workspace and approve a resolution:
At the top of your screen next to where your name appears select "Take me to" and then select your entity name.
NB: If you click on the entity and get the message "This is a summary-only view" the resolution will need to be approved in your Personal Workspace. The company plan will need to be upgraded to allow access. Please contact your professional advisor in this instance.
For Companies: Click on the Directors tab in the left column.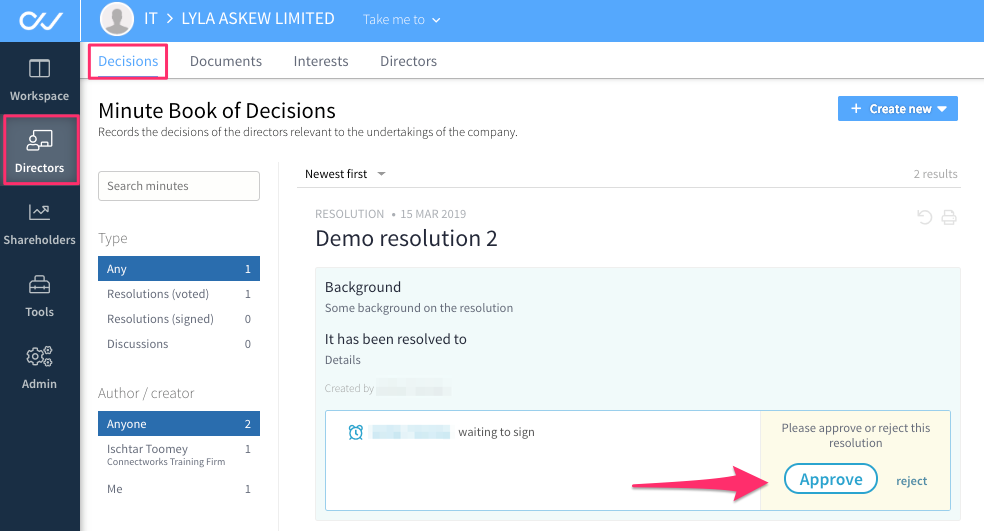 For Trusts: Click on the Minute Book tab in the left column.
Here, the resolution displays as awaiting approval. Select from the Approve or Reject button and you're done.