Disabling Multi-Factor Authentication (MFA)
Disabling MFA
From your personal dashboard, click 'Manage your account' and select 'Login and Security' from the sidebar.
Under the "Two-factor authentication" section, you can turn off MFA by clicking the 'Disable' button. You will be prompted to enter your account password to confirm that you want to disable MFA.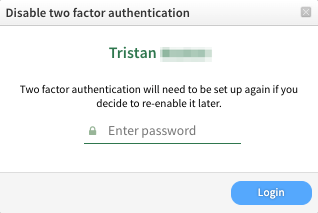 You can always re-enable MFA again by clicking the 'Get started' button. More information can be found in our Getting Started with Multi-Factor Authentication (MFA) guide.