Setting up Partnerships
Navigate to your firm's Clients tab.
In Clients, Partnerships select the "I would like to..." menu at the top right of the page and then "Add a Partnership"
NOTE: The Commencement Date is required when creating a Partnership
(During the creation process, you are required to enter the Commencement date - this becomes the default appointment date for the Partners).
1. Search or Create
Manually create a new party
The following information is required to manually create a Partnership
Country

Type of party

Name
2. Management
In the Management section, you can do the following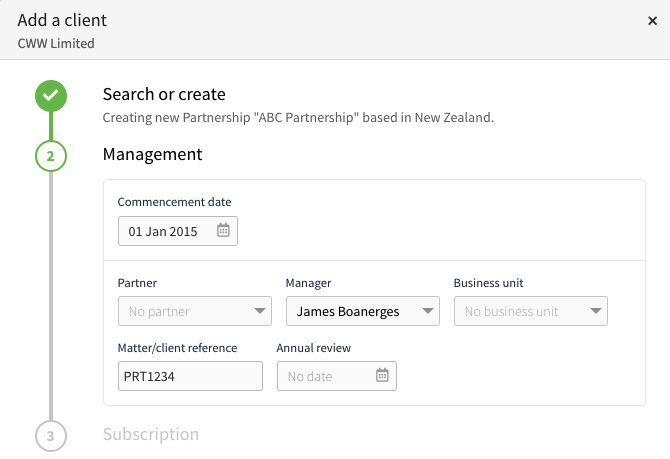 Commencement date

Set Partner, Manager or Business Unit

Matter/client reference

Annual review date
3. Subscription
Select the appropriate plan, depending on the entity that is added are the plans available.
NOTE: If you require the Partnership to be on the Unlinked with Signing Plan, please get in touch with the team at support@connectworks.com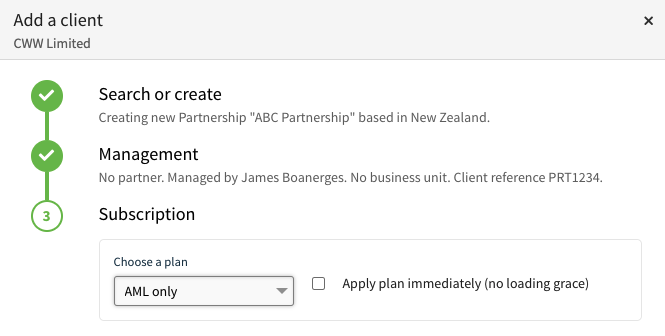 Select +Add or +Add and edit to complete adding the Partners into Connectworks.

Associated Parties