GETTING STARTED FOR NON-PROFESSIONAL USERS
Document signing for non-professional users
Document signing for non-professional users
Required to sign a document?
An account is required to complete the signing of a document in Connectworks.
When an email is received from Connectworks (noreply@connectworksmail.com), you will be required to create an account, for more information see Account Creation for non-professional users.
The email may look similar to the screenshot below, in the body of the email will be the firm that sent the email, allowing you to have confidence in why you have received the document.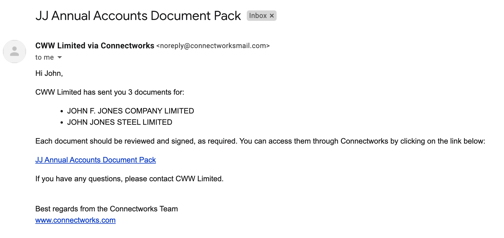 Document Signing Video Presentation